Ena Fujita, gravure idol, vocalist and composer, began her musical career with easy and fun pop songs, but over time her sound moved farther away from innocent idol tracks and shifted to rock. Who would have thought that in the two years that have passed since the release of the sweet album BIKINI RIOT, the work of this singer, who creates her own songs, will change drastically? Now, it's very difficult to discern a once-cheerful singer behind the powerful alternative rock of her new full-length album, titled Iromono.
We talked to the singer about how the new album was created, what caused a change in music style, how to stand out on stage, if it's scary to perform in a bikini and why the vocalist's alter ego was mad at her.
Hello! Congratulations on the release of your new album! Since this is our first interview, please introduce yourself to our readers.
Ena Fujita: Hello everyone. My name is Ena Fujita. Now I'm the most naked performer and composer in the Japanese scene. I'm honored to have this interview.
On June 26th, you released a new album titled Iromono. Tell us, please, what's the meaning behind this name?
Note: the Japanese name of the album is written as "色 者".
Ena Fujita: Actually, the word "Iromono" is written in Japanese as "色 物". In this case, the word means "eccentric person" or "freak". And my path in the Japanese music industry seems to be moving away from the mainstream very often. I chose this name for its irony. In addition, the kanji "色" (iro) has the meaning of "sexual," while "者" (mono) can mean "a person." This is a suitable name for me.
Iromono is perhaps the heaviest album of your discography so far. What inspired you? What did you want to tell the audience?
Ena Fujita: My long-time business partner is producer GA-KO Tabuchi. He understood the discontent that I felt, and after a long time led me to the current heavy sound. I sing about anger, annoyance, absurdity. The past "me" was afraid to address these topics.
As far as we understand,
WAR I NEED
went to the album from your side project, the "English" rock band Dolce. Has the song changed much from the original version? Why did you choose this particular track?
Ena Fujita: One of my hobbies is a game called mahjong. In the song WAR I NEED, I sing about the feelings of the player. Moreover, recently, thanks to mahjong, they began to invite me to entertainment TV programs and other activities, so I included this song in the album to please people who found out about me through the game. Compared to the original version, I only added relevant mahjong terminology. Plus, the title "WAR I NEED" is pronounced the same way as the Chinese "I love you" (wo ai ni).
By the way, how is Dolce's vocalist, Tiramisu, doing? Did she call you out for another band battle*?
Ena Fujita: It seems Tiramisu is mad at me because I started to perform songs similar to Dolce's tracks. I think when I start singing about love and harmony again, Tiramisu will call me out to another musical battle (laughs).
*"English" rock band Dolce ("English" in name only) appeared as a counterweight to the main work of the singer. If Ena Fujita herself was a fun and friendly idol on stage at that time, then her alter ego Tiramisu was gloomy, audacious, even aggressive. Dolce's music was similar to the vocalist's character — the band played good alternative rock. Watch one of their performances here.
Of course, the "two" vocalists didn't like each other and even held musical battles. Look how different their characters are!
Back to
Iromono
. What's your favorite track on the album? Perhaps the one with a special story behind it?
Ena Fujita: Shinjuku. Outwardly, Shinjuku is a very beautiful district, but if you look inside it, it's a dirty slum. Shinjuku is full of laughter and angry screams, love and sadness, people who are successful and who lost everything. This chaos fascinates me, and I turned it into a song.
Which track was the most difficult to create?
Ena Fujita: The most difficulties have arisen with Tsuki ga Tabeteshimatta. Before the song got its final form, I recorded six demos and rewrote the lyrics three times. Moreover, it was difficult for me to remember the words of WAR I NEED, since it was composed and written by GA-KO, although we thought we would record at first take! I'm not very good at memorizing lyrics written by someone else.
Despite the difficulties during its creation, Tsuki ga Tabeteshimatta, previously released as the single, became one of the most interesting tracks of Iromono.
Did work on Iromono differ from work on previous releases? We got the impression that on the new album you feel more confident both as a vocalist and as a composer.
Ena Fujita: Previously, I sang simple tunes, and from them GA-KO created ready-made tracks. However, while working on Iromono, he stopped using this approach and decided to stay away from creating songs. Therefore, Iromono is a reflection of my reality, where there are many negative feelings and everything is based on sufferings. I believe this is the weight of everything I experienced.
Since we are talking about creativity. You work as a gravure model, act in movies, and at the same time write music and perform on stage. How do you manage to do everything and where do you find energy for all these activities?
Ena Fujita: Thanks to all these activities, I'm gaining a diverse experience. And use it in my music.
Bikini performances are spectacular, and the covers of your releases look like gravure photo shoots. However, aren't you afraid that because of them people will pay more attention to your image, and not to your music? Or does it, on the contrary, help attract new fans?
Ena Fujita: Compared to famous musicians, I don't have a big name. Therefore, first of all, it was necessary to make people know about me. And even if such an image can be negative, the real tragedy in the end will be that the audience may not know about me at all.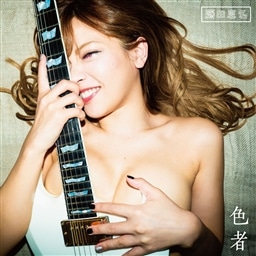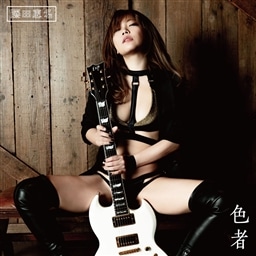 The covers of two editions of Iromono are different. One of them shows the singer's cute nature, while the other reveals her bold and aggressive side.
Do you remember your first bikini performance? Were you scared before the show?
Ena Fujita: It was scary, but at the same time I felt a surge of courage. Bikini is my combat gear.
How different is today's Ena from the one that has just started her music career? Did you achieve your goals, or are they still ahead?
Ena Fujita: I used to have no aggressive and sad songs. Therefore, for the past me, the present me may be a nightmare (laughs). I think, today's me is much more interesting. If we talk about the goals set at the beginning of my career, then I have achieved only one: debuted on a major label.
Among the live videos on your YouTube channel there are several recordings of acoustic performances. This kind of songs really suits you. Have you ever considered releasing an acoustic album?
Ena Fujita: What I want to convey to my listeners with my releases is heavy sounds, not acoustic. Therefore, I didn't think about such releases. Moreover, at my shows the amount of acoustic songs is very little.
You have many live videos of Live Drive on the channel. At concerts during this song, the fans often kneel and reach out to you, and it looks very nice. Please, tell us where this tradition came from.
Ena Fujita: This is called kecha, a popular move in the Japanese idol industry. It has remained from the time when I was a sweet and innocent idol (laughs).
One of the oldest Live Drive recordings from Ena's YouTube channel. Over the past six years, the number of fans at shows has definitely increased.
In Europe, you release albums on JPU Records. Have you ever considered performing in Europe?
Ena Fujita: There are no such plans for now, but I would really like to perform in Europe. So, if you call me, I will be happy to come! Just specify how much such a trip will cost (laughs).
A lot of fans are wondering how to win your heart. Share some advice with them, maybe?
Ena Fujita: Since I'm a Japanese singer, I think it's difficult for everyone to get to my shows. So please subscribe to my Twitter and Instagram accounts. If you saw my photos and really want to meet me in person, then please come to my shows in Japan. We'll take a picture together!
Thank you for your time and once again congratulations on the release of the album. Any final words to JaME readers?
Ena Fujita: I hardly perform abroad, that's why only a few people know me outside of Japan. So, I'll be glad if among the people who read this interview there are those who are interested in my work. And please, listen to Iromono. Thank you very much.
JaME would like to thank Ena Fujita, GA-KO Tabuchi and KING RECORDS for this interview opportunity.
Iromono is available for purchase and streaming via iTunes and Apple Music. You can also buy a physical copy of the release as well as another singer's works on CD Japan.
Ena Fujita's album BIKINI RIOT is now on sale at JPU Records.